It's true.
Our work is beautiful. Our technicians are trained to return you vehicle to the manufacturer's speicifcations. Our staff is trained to offer the best in customer service. Take a moment and check out some of our show room pieces.
We're certified.
Not only are we certified, but we are proud of it. Not all repair shops can boast that! Here's our certifications: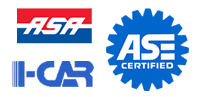 Our Advantage.
There are several advantages to having us do your repair
- We're good at what we do.
- Our Warranty assures you of it.
- We're quick ... delays are rare.